Get this update first. Sign up for the Solana Community Update newsletter!
Solana Summer Camp: Congratulations to the winners!
The Solana Foundation is pleased to announce the results of the Solana Summer Camp Hackathon, a global competition focused on bringing the next wave of high-impact projects into the Solana ecosystem. Open to teams globally, Solana Summer Camp saw nearly 18,000 participants submit 750 final projects to the judges. Stripe, Orca, Grape, Solana Mobile, Fractal, and Brave joined the Solana Foundation as category sponsors for the hackathon, offering participants a global prize pool of up to $5 million in prizes and seed funding.
IronForge, a platform that includes automated deployments, program previews, auto-generated APIs, monitoring and more, received the Grand Champion prize of $65,000 in USDC, along with passes to attend Breakpoint, the annual Solana conference in Lisbon Nov. 4-7, 2022, where they will present their project.
The first place finishers of the six prize tracks include:
There were also three other special awards:
🏫 The University Award: Solstamps, software designed to solve email phishing by linking user identities to Solana wallets.
☀️ Community Choice Award: Beluga, a stableswap AMM that enables lower slippage and creation of permissionless pools.
🌳 The Climate Award: WiHi, a decentralized weather forecasting and climate monitoring solution that issues tokens as a reward to weather stations providing accurate data to the network.
See the full list of winners and honorable mentions, and explore the submission directory.
Top Solana News
Helium proposes move to Solana
https://twitter.com/HeliumFndn/status/1564723480138055687?ref_src=twsrc%5Etfw%7Ctwcamp%5Etweetembed%7Ctwterm%5E1564723480138055687%7Ctwgr%5Ec4c40c95b6fbc4c2add7754a116b51ec855b90fe%7Ctwcon%5Es1_&ref_url=https%3A%2F%2Fsolana.com%2Fnews%2Fmonthly-community-update-september-2022
Big news. Helium, the crypto-powered decentralized wireless network, has recently proposed moving from their own blockchain to Solana. This vote, which is currently ongoing, would mean that Helium would move all of its operations onto the Solana blockchain — a decision that came after a long evaluation process between other chains.
Amir Haleem, the CEO of Nova Labs and Founder of Helium, recently joined Austin Federa on the Solana Podcast to talk about the history of Helium and the decision to move to Solana. Listen here.
Coinbase Cloud offers Solana Archival Nodes
Get ready to look in the past. Coinbase Cloud announced Solana Archival Nodes, a blockstore of all historical transactions. This will help builders access archival Solana data.
Learn more at Coinbase Cloud.
Solana Summer Camp meets IRL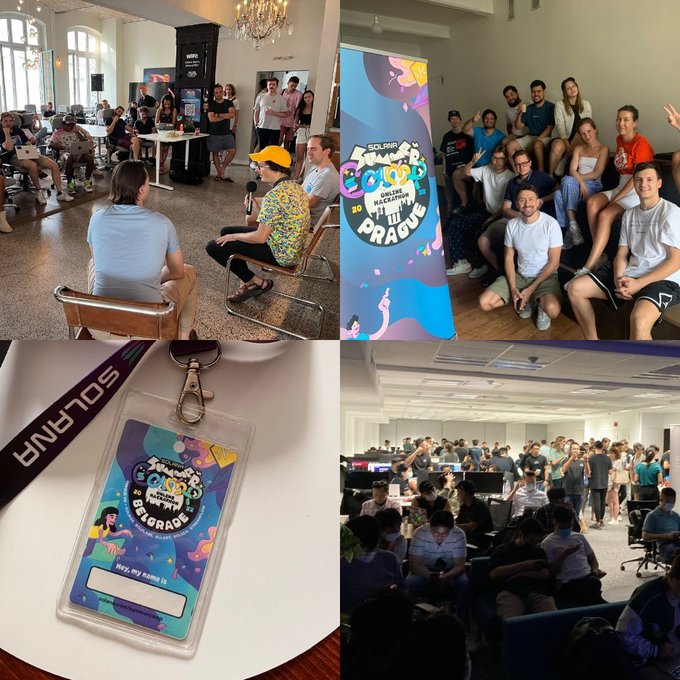 While Solana Summer Camp was primarily an online event, ecosystem teams across the world hosted thousands of participants at offline events in San Francisco, Chicago, Salt Lake City, New York City, London, Lisbon, Amsterdam, Prague, Berlin, Belgrade, and Singapore. The hackathon brought together crypto pioneers and developers from around the world to launch projects on the Solana blockchain spanning Payments, DeFi, Mobile, Gaming, DAOs, and everything in-between.
Interested in hosting your own IRL building event? Consider setting up a Hacker House X!
Head to the Solana House at FORMAT Festival
Experience the future of art and tech — all in one place.
Enter the Solana House at the FORMAT Festival in Bentonville, Ark., September 23rd-25th to get free snacks with crypto-powered digital vouchers, immerse yourself in world-renowned artist Nancy Baker Cahill's first Solana NFT exhibit, and participate in an NFT auction.
Ecosystem Headlines
Here's what's new this month: