Summer of S◎L: Serum, Reddit, and a Mind-Blowing Demo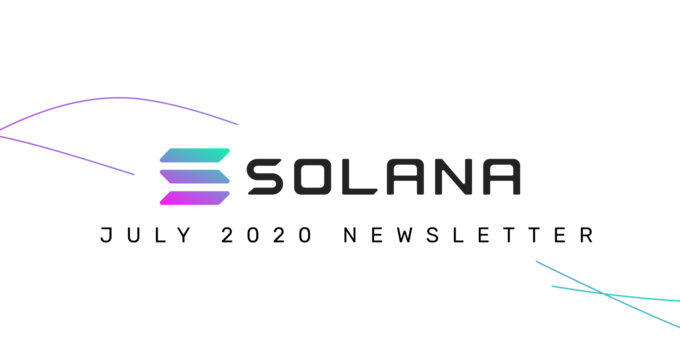 📊 Serum: FTX's holy grail DEX with CLOB, powered by Solana
☀️SolFlare: the new community-built web wallet with staking
⚓️ Anchor: DeFi powered by Solana staking rewards
🎮 Break: interactive demo is breaking brains with Solana's speed
📈 26m blocks, 1.9bn transactions, ~400k S◎Ldiers
🔥 Most upvotes and fastest demo on Reddit's Scaling Competition
🏦 New listings on FTX, BitMax, Bithumb Global, MXC
"Holy Grail" Decentralized Exchange with Central Limit Order Book
The FTX and Alameda Research teams have been on a tear this past year. They recently announced Serum, a new high-speed, non-custodial decentralized exchange (DEX) for spot and derivatives, with an on-chain central limit order book. This is only possible with the speed and security of Solana.
Over 13 teams with the world's best experts in DeFi, key management, custody, exchanges, market making, bridges, and trading have come together for "The Manhattan Project" of crypto. Serum will support cross-chain asset swaps, decentralized stablecoins, decentralized oracles, and non-custodial wrapped BTC, BCH, BSV, LTC, ZEC, ETH, and ERC-20s.
It's expected to be open for trading in August.

The interactive speed demo that is breaking everyone's brains
Solana built an interactive demo called "Break" to illustrate Solana's speed in real-time. It's simple to play, all you need to do is smash keys on your keyboard. Each keystroke sends a real transaction to the Solana mainnet. Every time a block changes color from black to green you know the transaction has been:
Sent from the client to the server
Forwarded from the server to the the block producer
Added to a block and propagated to the network
Voted on by everyone in the network
Approved by 2/3+ of votes
Vote status sent from server to client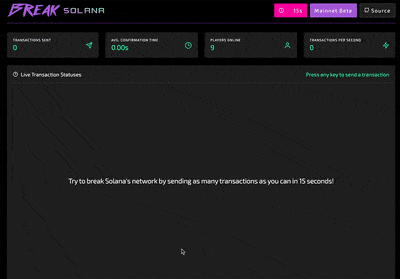 Four new listings on major exchanges in July
July was the SOL token's most prolific month for exchange listings since its initial launch on Binance. FTX, BitMax, Bithumb Global, and MXC all decided to list SOL for trading. As part of the most recent listing, FTX is giving away a Cybertruck or its equivalent in SOL! All market pairs can be found on CoinGecko or CoinMarketCap.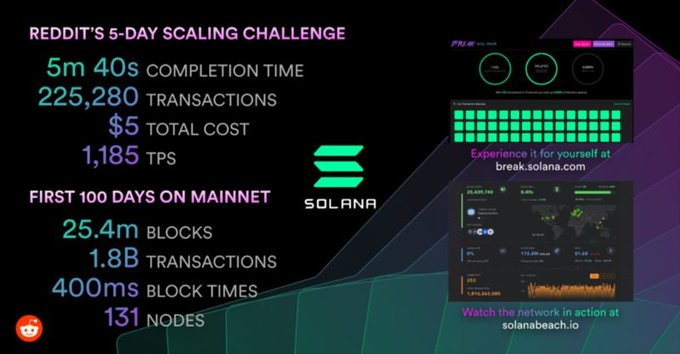 Reddit's 5-Day Scaling Challenge in 5 minutes, 40 seconds
Solana tackled the Scaling Bake-Off the week of July and completed the entire 5-day challenge in around 5 minutes for less than $5 USD. Some highlights:
323 comments and 253 upvotes, more than any of the other 17 projects
Challenge done in 5 minutes, 40 seconds, faster than any other PoC
Ran on mainnet across 130 geographically-distributed validators
See the submission, Run the demo for yourself on the mainnet or watch the demo video. Alternatively, just go play Break!

A new DeFi product using Solana inflationary rewards from the team at Terra
Terra is launching a new DeFi product with Solana, Cosmos, and the Web3 Foundation. Anchor is a two-pronged platform for PoS token holders. The system offers savings accounts and a lending platform — the bread and butter that made DeFi on Ethereum a multibillion-dollar enterprise.
Anchor offers a principal-protected stablecoin savings product that accepts Terra deposits and pays a stable interest rate. Key features of Anchor include principal protection, instant withdrawals, and stable interest rates.

An intuitive web wallet with native staking and delegation, built for S◎Ldiers by S◎Ldiers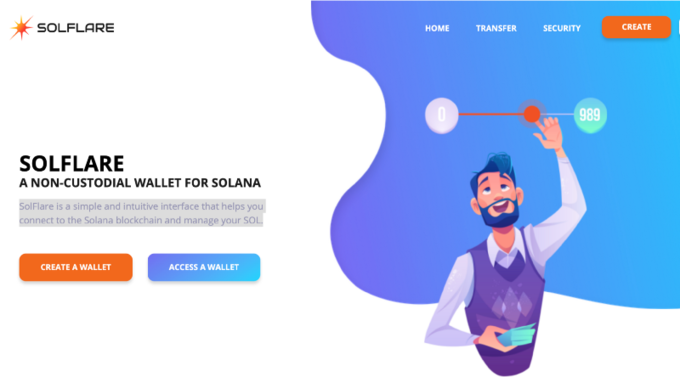 A simple and intuitive interface for managing, moving, and staking your SOL. SolFlare was created by a longstanding Solana validator, Dokia. The wallet is live now and features support for keystore files as well as the Ledger Nano S. SolFlare also is the first Solana wallet interface to support staking without needing to use the command line interface, making stake delegation easier and accessible to casual users.
Engineering Updates
Solana's engineering team continued the upward momentum over the past four weeks with more official releases, testnet updates, and infrastructure upgrades.
New Docs: After 8 months of using GitBook, we officially completed our transition to Docusaurus at the start of July. Take a peek at the new edge, beta, and master documentation deployments.
Network Upgrade Preparations: Mainnet beta will undergo a network wide upgrade during epoch 61 to promote the network to the 1.2 release line. The upgrade will occur during a 2 day (1 Epoch) window called the Upgrade Epoch, where all user transactions will be disabled.
RPC Optimizations: Releases on both the 1.1 and 1.2 release line focused on bug fixes related to network messages, RPC notifications, and other network metrics. Block height is now added to the getEpochInfo endpoint, and other encoding and filtering parameters are now available on other RPC subscriptions.July was a doozy. Not much sleep for Solana's creators, contributors, and community during the Summer of S◎L. As always, thank you for your support and contributions.
As always, make sure to follow us on our various social channels to get daily updates on whats going on in the Solana ecosystem.