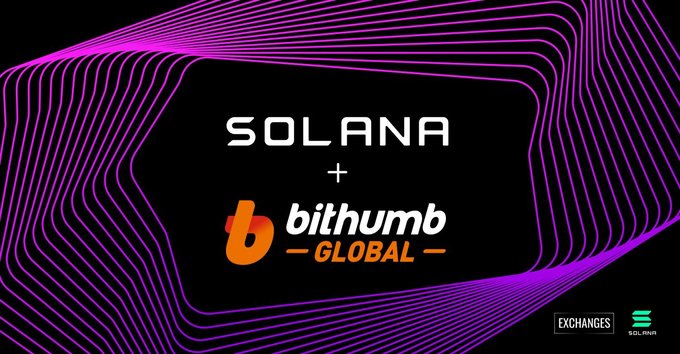 Pairs: SOL/USDT, SOL/BTCDeposits Open: 2 AM UTC on July 12th, 2020
Trading Starts: 9 AM UTC on July 13th, 2020
The Solana Foundation is excited to share that SOL is now open for deposits on Bithumb Global; starting at 9 AM UTC on July 13th, 2020, SOL will begin trading. Bithumb Global is an innovative trading platform launched by Bithumb, Korea's largest digital asset trading platform. SOL/USDT is the initial trading pair launching on the 13th, with additional pairs expected in the future. As our global community continues to grow, we're structuring the following events in cooperation with Bithumb to ensure we can reward as many of our users as possible. The Solana Foundation is offering ◎80,000 in prizes across three different events.
The Solana Foundation is offering a SOL giveaway for Bithumb Global users that learn more about Solana and join our global community. To participate, Bithumb Global users need to fill out a form, complete a quiz, follow the Solana English Twitter, join the Solana English Telegram group, and refer users to the campaign.
Please review the following rules before registering.
Duplicate submissions are not allowed. If your submission is found to be fraudulent or high-risk, you will be disqualified.
Delivery of the giveaway will happen within 96 hours after the campaign ends. *Please keep an eye on the Solana Telegram and Twitter for a final 24-hour announcement.
The giveaway will be distributed to the Solana (SOL) address associated with the ID you provided upon registration.
The following countries are restricted from participating in this campaign: Burma, Crimea and Sevastopol, Cote d'Ivoire, Cuba, Democratic Republic of Congo, Iran, Iraq, Libya, North Korea, Sudan, Syria, Zimbabwe
Bithumb Global is in charge of the actual distribution of the tokens
KYC is required
Here are the steps to participate:
Complete the form at https://solana.com/earn/bithumb
Complete the short quiz
Sign up for the Solana newsletter
Follow @solana on Twitter
Join the Solana Telegram group
Our educational campaign allows users to be eligible for two sets of prizes: random drawings and referral competition wins. For users who place in the top 1,000 of participants, we will deliver a bonus giveaway on top of the random drawing that all users will receive.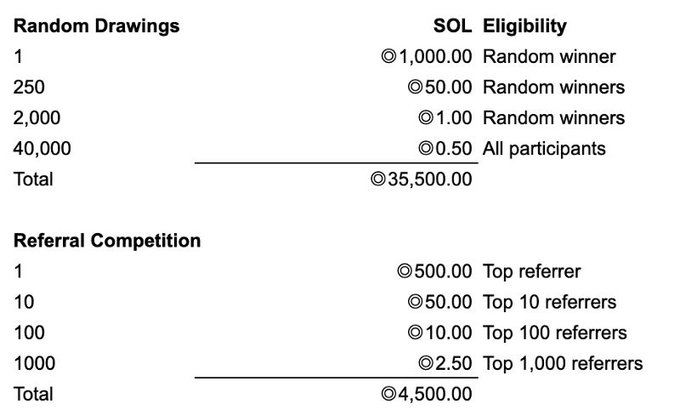 Rewards Breakdown
Bithumb Global Deposit Campaign: ◎10,000 Available
Event Duration:
July 12, 2020, 10:00 to July 20, 2020, 23:59 (UTC+8)
Event Rules:
During the event, the accumulated amount of SOL net deposit is more than 100 SOL, and the top 200 users will be rewarded as follows. (Accumulative net deposit = total deposit — total withdrawal)
2. Event Rewards:
Top 1–10: 1.5% of the cumulative net deposit (up to 100 SOL per user)
Top 11–100: 1.3% of the cumulative net deposit (up to 60 SOL per user)
Top 101–200: 1.1% of the cumulative net deposit (up to 20 SOL per user)
3. During the event, new users who deposit BTC, ETH, XRP, BCH, BSV, LTC, ADA, COMP, or USDT up to 200 USD or above will be rewarded with 2 SOL.
4. Prizes are first come first serve as determined by Bithumb Global
Bithumb Global Registration Campaign: ◎30,000 Available
Event Duration:
July 13, 2020, 17:00 to July 21, 2020, 23:59 (UTC+8)
Event Rules:
Users who have completed registration are able to participate in this event.
During the event, users who have accumulated SOL trading volume greater than 3,000 SOL are eligible to participate and Top 200 will win a reward.
Accumulated trading volume = accumulated buy + accumulated sell — accumulated withdrawal, but excluding self-sale.
Event Rewards:
TOP 1:9,000 SOL
TOP 2:7,000 SOL
TOP 3:5,000 SOL
TOP 4–10:equally divide up ◎4,000
TOP 11–20:equally divide up ◎3,000
TOP 21–50:equally divide up ◎1,000
TOP 51–100:equally divide up ◎500
TOP 101–200:equally divide up ◎500
4. Total Prize Pool:◎30,000. First come as determined by Bithumb Global.
Make sure to follow the Solana Korean Social Channels
Medium: https://medium.com/solanakorea
Naver: https://blog.naver.com/solanalabs
Telegram: https://t.me/solanakor
English Social Channels
Twitter: https://twitter.com/solana
Telegram: https://t.me/solanaio
Reddit: https://www.reddit.com/r/solana/